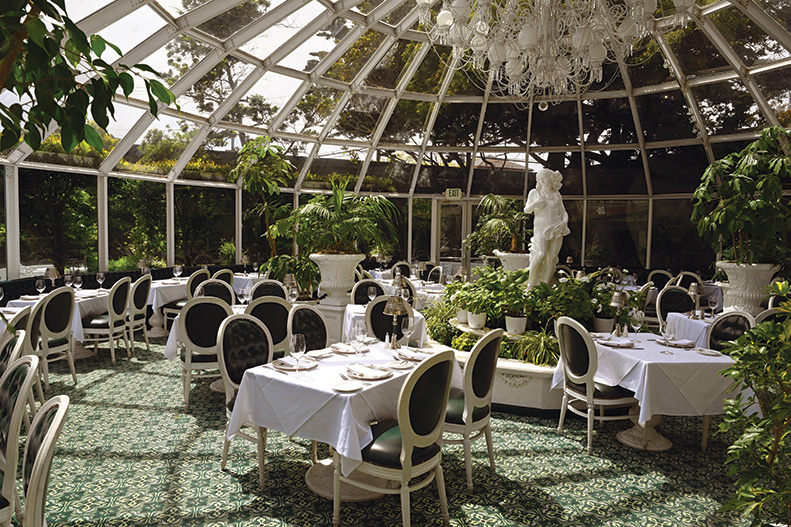 Certain places demand a certain level of formality, nothing pretentious or unattainable, just an expectation to put your best foot forward. In times past, there were more places in society that required such a heightened level of formality—be it a weekly trip to a place of worship or just working as a sales girl at Saks 5th Avenue in the Carmel Plaza, where a strict dress code prevailed. Perhaps the most enjoyable opportunity to put your best foot forward was at a fine-dining establishment where, not so long ago, men were required to wear a jacket and tie. Over the years, that requisite level of formality has all but disappeared—but to what end? Getting dressed up elevates any occasion and can add to the special nature of an activity. So many of us dine out so regularly nowadays that we forget to stop and consider where we are going and what we are about to experience.
Hidden in plain sight, just above Cannery Row, The Sardine Factory—more than a restaurant, a fine-dining institution—has always merited that level of formality and, since its opening day on October 2, 1968, has continued to provide an atmosphere unparalleled on the Monterey Peninsula. It is known as "The World-Famous Sardine Factory" for good reason, receiving acclaim and world-wide renown even in its early days. As an important piece of Monterey history and of U.S. culinary history, it continues to deserve our attention today. An excerpt from The Holiday Magazine Distinctive Dining Award Review in 1975 captures it best: "It's not by accident that one gets the feeling that ladies should be wearing lace and satins and gentlemen appear in high collars and cutaways at The Sardine Factory. Dining here is a return to the graciousness of an earlier time, when dining was an experience to be relished and prolonged." It is a landmark, a place of cherished memories and—though you'll be welcome in whatever you wear—it is the perfect spot to don your best and bask in the ambiance.
The Sardine Factory's history is a story of Cannery Row and of two young men with incredible entrepreneurial spirit: Ted Bale-streri, a transplant from Brooklyn, and Bert Cutino, one of Mon-terey's own, the son of a fisherman. Despite growing up on opposite coasts, the two men have a lot in common. Both are second generation Italian-Americans from working-class families, both were extremely successful paperboys, both started their careers in the restaurant industry at a tender age, and both dreamed of having fine-dining establishments of their own.
In 1953, Cutino had his first professional foray into the kitchen at the age of 13. Against his parents' wishes, he took a summer job at Holman's Guest Ranch, a working dude ranch in Carmel Valley, where he lived and worked as a dishwasher and busboy. It wasn't long before his innate cooking abilities were discovered by the resort's German chef. Cutino was unimpressed with the chef's pasta, choosing not to eat it. When asked if he thought he could do better, Cutino confidently replied that he could, so the chef had him prepare pasta the next time it was on the menu. The owner of the resort, Mr. Holman, tasted the sauce and declared it to be the best thing the chef had ever made. The chef admitted it was not his and was, to his credit, not at all offended. He took Cutino under his wing, teaching him as much as he could through the rest of the summer. Cutino went on to work at many area establishments, most notably for Sal Cerrito at Cerrito's on the Wharf (formerly the Pop Ernest Restaurant) and Neptune's Table, where he did a three-year certified apprenticeship in the kitchen. (He eventually became operations manager for all of Cerrito's restaurants.) Cutino was interested in the business side of restaurant operations and, to further his education, enrolled at Monterey Peninsula College (MPC). There he met a young man with whom his life would forever be linked.
Fresh out of Brooklyn, Balestreri arrived on the peninsula at the age of 16 with his mother and siblings. They left New York after the death of his father to join his mother's relatives in the area, settling in Carmel. As the eldest son, he felt responsible to be a breadwinner. He followed the cantaloupe harvest in the summer and took jobs during the school year as a dishwasher and busser at the Highlands Inn, Casa Munras and Asilomar—even working as a bartender, despite his young age. Upon graduating from Carmel High, he enrolled at MPC, where he met Cutino in an economics class.
Balestreri's big break came at the age of 18, when fellow bartender Don Sprong bought the Seven Pleasures, a very high-end, white-glove nightclub. Fibbing about his age to get a better position, the "23-year-old" Balestreri was hired as the maître d'. It was at this job that he realized his love for the industry. After MPC and a compulsory stint in the Army, he felt he needed a more formal education and enrolled in Lewis Hotel Management School in Washington D.C. In 1961, he returned home for a job with Sal Cerrito and Art Boudin that failed to materialize, so Cerrito sent him south to Visalia to work his magic on a floundering hotel he owned there. Balestreri became known for his ability to improve operations and was soon hired by Boudin to turn around his Monterey restaurant, The Rogue, which he did, taking it to the No. 1 grossing restaurant on the Monterey Peninsula at the time.
While Balestreri managed The Rogue, Cutino went to work at Boudin's Carmel restaurant, The Jolly Roger. The young men became roommates and would often visit each other at work. It became clear that they were both of the same mind—it was time for a change. Having both experienced significant success working for others in the industry, they knew they were ready and well equipped to step out on their own. Balestreri would manage the front of the house and Cutino would manage the kitchen. But finding an appropriate building they could afford proved difficult. In the late 1960s, old Monterey was full of great restaurants, making real estate for the type of establishment they envisioned scarce, so they had to look farther and think creatively.
Despite a humble facade and a location literally on the wrong side of the tracks, the young men saw promise in an old building sitting dark and vacant above the bay, high on the corner of Wave and Prescott. At the time, the area was a vast wasteland of derelict canneries. But, determined and eager, they took a chance on the seemingly out-of-the-way spot, seeing potential in what had originally been a cannery workers' canteen, and later a gym, a ballet studio and a Portuguese hall. With help from an investor—Balestreri's dentist, Dr. Orland Caselli—they were in business, leasing the building for $200 a month with the option to buy, eventually purchasing the property for $98,000. The largest expenditure to get the business up and running was the cost of the liquor license, barely feasible at $19,000. But by pooling their resources, they had just enough to make it happen.
Though their means were limited, they knew the restaurant needed to be high on style, so the young men brought in an experienced designer, Roy-Ami Hamlin, a set designer for 20th Century Fox who owned an antique store on Cannery Row. Hamlin had a vision for opulence and was able to create the desired atmosphere on a shoestring budget. With little money for building repairs, Hamlin suggested painting the walls of the old canteen gray, which, in dim light, would hide all the imperfections. The young men used their ingenuity to find low- or no-cost solutions to their needs. They fashioned pipes into railings for the exterior stairs and they used coffee cans for the exterior lighting—which are still in use today under the red awning. With no money for landscaping, they purloined ice plant from the side of the highway. They couldn't afford a walk-in cooler, so they found an old milk truck that fit the budget because it no longer had an engine, and parked it outside the kitchen. When workmen left their tools over the weekend, the young men would borrow them to work on projects themselves.
In their first year of business, they suffered a huge setback, when an arsonist broke in and set multiple fires throughout the restaurant. The damage was extensive and extremely costly to repair, but the team powered through and got the restaurant back to business in less than 90 days.
The restaurant began as a single room with 72 seats (now known as the Lounge) with the bar on a raised area that served as a stage in the building's past lives. The fact that the bar fit so perfectly was pure luck. Balestreri and Cutino bought it sight unseen, as it was broken apart and crated in a storage space. The owner hadn't paid his rent, so the bar was sold to the highest bidder for the grand sum of $160. When unpacked and assembled back on Wave Street, everyone was amazed to find it fit perfectly in place. And it turned out that the bar was something special—a 19th century ship's bar. Look closely and you'll find a compass inlaid into the center of the bartop. The restaurant's original design called for the bar to be painted red. In fact, literally everything in the room was painted either gray or red in a very 1960s two-toned color scheme.
Fairly soon after opening, it was clear that more space was needed, so the dining room was extended, adding 14 more seats by pushing the wall behind the fireplace out into what had been a covered outdoor area. An adjacent storage space became the stone-lined private dining room known as the Wine Cellar with seating for 12, and the Steinbeck Room was created out of what had been Balestreri's office to the left of the bar, adding 18 more seats. Out of necessity, the early décor, though stylish, was done on a tight budget, but as business flourished, the young men had the means to make improvements and additions in a grander style, as the next addition, the Captain's Room, clearly reflects. Designed to evoke the feeling of lavish turn of the last century San Francisco, the room features an ornate Victorian fireplace and large hand-carved gilded mirrors rescued from a demolished San Francisco mansion. The rich brocade covered walls are lined with antique paintings of ship captains. While the Captain's Room was being constructed, a new wine cellar was built out below. An exclusive private dining room that seats 28, the Wine Cellar is accessed via a dimly-lit, rough lumber-paneled staircase, reminiscent of a mine shaft. But what you find below is anything but rustic. Decorated with European antiques and featuring a massive hand-hewn dining table made from a single fallen Big Sur redwood, the room is surrounded by stone catacombs filled with an incredible display of wines which are just a fraction of the restaurant's award-winning 20,000 bottle cellar. It is an ideal location for an intimate gathering and is often booked by celebrities during Car Week and the AT&T Pebble Beach Pro-Am.
The light and airy Conservatory was the last addition to the restaurant. Completed in 1981, the room was designed as a nod to the Gatsby era, adding 100 seats to the restaurant. The enormous crystal chandelier and domed glazing make it a glittery and cheerful place to enjoy a sunny brunch while keeping the chill of the ocean breeze at bay. And following designer Hamlin's explicit instructions, absolutely everything in the room is green and white, with no other hint of color, and remains so to this day.
The Sardine Factory interiors have never fallen prey to the restaurant trends and fads that have come and gone over the years, rather they have stayed true to the original vision. And that care, taken in preserving the design and décor of the restaurant—its enduring authenticity—has both earned it the respect of the younger generation and kept it in the hearts of its original patrons. Looking to the future in a restaurant with such a storied past can be daunting, but thankfully, Balestreri's eldest son, Teddy, is ready to carry the torch with the vision to see that this piece of Monterey history lives on in a way that keeps the restaurant relevant while maintaining both the look and the spirit that make it such a special place.
Due to the public's changing tastes, the Sardine Factory has grown to embrace a "come as you are" mentality, accommodating those in town for sightseeing and golf, but it continues to provide the perfect atmosphere for an elegant experience. A meal is never rushed, your table is ready when you are, and a cocktail at the bar can easily be extended to two or more without any sense of urgency for your reservation time. The maître d' is friendly and polite and, once seated at your table (or even at the bar), the head sommelier can be at your side at a moment's notice with a recommendation. The servers no longer wear cummerbunds and cutaways, but the attention to detail and friendly, yet genteel service will undeniably match your elevated level of formality—should you choose to rise to the occasion. You'll never feel overdressed at The Sardine Factory.
The Sardine Factory is located at 701 Wave Street in Monterey. For more information, visit www.sardinefactory.com or call 831/373-3775.