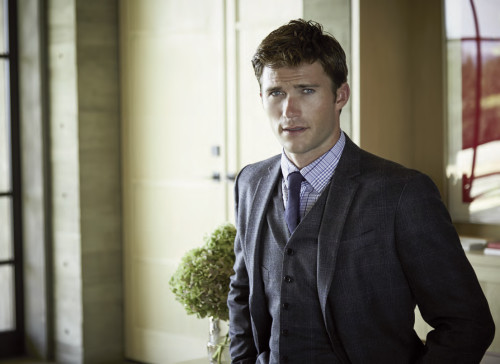 Flip open almost any fitness or celebrity magazine these days, and Clint Eastwood's youngest son Scott, who bears a striking resemblance to his dad, smolders. He's seen running up and down the Santa Monica steps, performing pull-ups on telephone poles, and in a recent commercial, performing an impressive swan dive off a cliff- all in jeans, shirtless and barefoot. The 29-year old actor, model and ocean advocate, who is currently filming "Suicide Squad" in Toronto, spoke to Carmel Magazine as he prepared to catch a flight to Hawaii, where he was about to receive the "Rising Star" award at the Maui Film Festival.
SE: I'm heading out to Maui for 24 hours, then I turn around and go back to Canada for filming. This is actually my first award. I didn't do anything to deserve it, but, hey, that's very nice.
CM: Congratulations! Well you are popping up everywhere right now…
SE: I'm sure you're getting sick of seeing me.
CM: No, definitely not! I keep seeing you in magazines with pictures of you work- ing out. Maybe we can touch on your fitness routine…what do you usually do?
SE: It's really dynamic…not just about doing one thing…A perfect ideal day for me would be to go to the gym in the morning, knock out a good workout, then go for a surf midday, and then do some sort of training at night, like a jujitsu class. Or go stand-up paddling or swimming. It's always about changing it up…
CM: So how do you find time for all that with filming? Do you have to get up really early?
SE: Yeah, I get up super early. Luckily, we've got some really fit guys on the film.They built a gym for Will Smith and myself…We go in before we start shooting and hit the gym hard.
CM: By the way, what's Will Smith like? He seems super awesome and funny on film…
SE: He's exactly like that.Very unaffected and extremely funny…he's an entertainer. He makes everybody laugh on set…I think that's important, because a lot of actors can be very serious on set.They sort of forget that we are really just making entertainment…we're not curing cancer here. I think sometimes actors think they are doing God's work. I'm not like that at all. I'm very grounded and my dad's the same way…there are some serious moments, but come on, reality is, it's just making a movie. Will Smith has that same mindset, which is great.
CM: I promise we won't make this all about your dad, although everyone is very enamored with him, justifiably so…but can you talk about how he influenced you as far as staying fit?
SE: My dad got me into the gym at a very young age; around probably 13 or 14 I was starting to pump weights and just be active. Actually, I was just sitting down with him last night celebrating his 85th birthday, having a nice dinner, and we were talking about it, and I told him, 'You know Dad, the reason that I eat so healthy is because of you.' We went to an Italian place for dinner and I ordered wild-caught salmon and broccoli; I didn't order any pasta. He and I ordered the same thing. He rubbed off on me.
CM: Do you feel like he's also the reason you are an actor, or do you feel like that is something you already would have been interested in?
SE: I think he probably had a pretty big influence on me in that regard…I was on movie sets since I was a little kid, and I started working with him when I was 17 on movies.
CM: How was your first movie experience with your dad? Were you intimidated or nervous?
SE: Yeah. I had seen him working before, so I knew a lot of the people, but yeah, I was scared and nervous and wanted to do good.
CM: Which movie was the first one you did with him?
SE: The first one as an actor was "Flags of Our Fathers." I only had a couple of lines, and I die off pretty quick…It was a great movie to be a part of.
CM: I just watched your commercial for Davidoff Cool Water cologne. Was that really you diving off the cliff?
SE: Yeah, we shot that in Hawaii, at a place called China Walls. I have jumped off that before, actually.
CM: How much time have you spent of your life in Carmel versus Hawaii?
SE: A lot…I was born at CHOMP and I lived there [Carmel] until I was about 9 or 10. I lived in Hawaii with my mom [Jacelyn Reeves] for about four years, then I moved back to Carmel and graduated from Carmel High. I was just there for one of my best friend's weddings.
CM: What kind of elements from growing up in Carmel shaped you?
SE: I spent a lot of time surfing, going to Big Sur and Santa Cruz to hike and be in nature…[What's great] is the quiet and being able to take your dog to the beach and not have a leash and have fires on the beach and not have people tell you what to do… A group of angry mothers or something is trying to get a leash law. It's horrible if they do it. Carmel Beach and the whole area is sort of magical because you can do these things. It's sort of the Wild West a little bit.
CM: Where are you based most of the time now?
SE: In San Diego, in Encinitas, which is really like a warmer, younger version of Carmel-by-the-Sea.
CM: Yourfilm, "The Longest Ride," based on the novel byNicholasSparks, was recently released. I read that you actually jumped on a real bull after that was completed. How was that?
SE: Well it was a little scary; it was an adrenaline rush, which I like…I had to do it, sorta. I don't want to be one of those little actors who pretends stuff. I was with all these actual bull riders who were filming with us every- day. I became friends with a lot of them. I'm not going to pretend that I know like what it is to ride a bull, unless I actually ride a bull—so I just want- ed to do it one time so I could really speak about it authentically.
CM: So would you say that we could generalize that to your philosophy with things in life, that you're one of those people who actually wants to experience things…
SE: Yeah, I don't want to read about it. I want to do it…That's the great thing about traveling and actually getting up off your ass and going places and doing things.You get to experience life and live it. You only get one life: you better make it a damn good one.
CM: And your dad is the same way, I'm guessing?
SE: Very much so. He doesn't talk about what he's going to do, he just does it…My mom was great too. She was an instrumental part of my life. She taught me to be honest and to be more compassionate.
CM: What was that culture like, when you were living with your mom on the Big Island?
SE: [Living there] I think adds to the aloha spirit of being one with nature. I got really into fishing and diving. I got into outdoor activities and living off the land a little more…It's a lost art [to hunt] and get your own food…what most people are really seeking is pleasure. People are very hypocritical: they want food, but they don't want to kill it…I think that's the part that makes a human.
CM: Just curious, since you were originally from California, was it hard to fit in with the locals in Hawaii?
SE: Yeah, it's funny you bring that up, because we were just talking about that the other day…there was a lot of anger and hatred to the white people in Hawaii by the locals. As a young guy, I was definitely called 'haole boy' and made fun of. But ultimately at the end of the day, I think it was good and manned me up a little. I enrolled in football and had to kind of grow up getting in fistfights at school. It's amazing though, once you get a common ground with a team sport like that, you can sort of bridge that gap.
CM: So I'm guessing having such a broad variety of life experiences really helps you get into a character as an actor.
SE: Yeah, a lot of people just need life experience to pull from, to draw from.