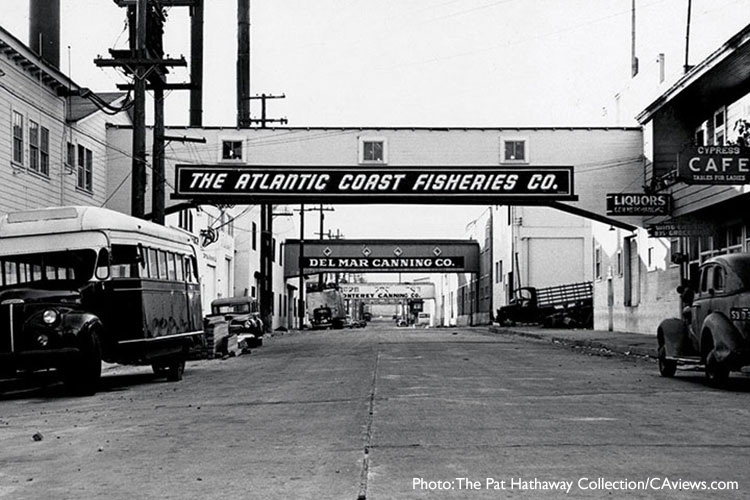 Sitting at a polished boardroom table next to Ted Balestreri, chairman and CEO of Monterey's Cannery Row Company, it's easy to picture the popular waterfront area that he was instrumental in developing which is now bustling with shops, restaurants, hotels and the famous Monterey Bay Aquarium.
What is harder to imagine is the rundown state of Cannery Row 60 years ago, with crumbling former brothels, fishermen's shanties and abandoned canneries sliding into the Monterey Bay.
Immortalized by John Steinbeck's novel "Cannery Row," there was once a stinky, gritty but thriving sardine operation, canning the "silver harvest" pulled out of the Bay by Chinese, Portuguese, Italian, Spanish, Japanese and Filipino fishermen, among others. After the decline of the sardine industry and the unexplained temporary disappearance of the sardines in the late 1940s—at its peak, the region was producing 1.4 million cases of the fish per year—the area was derelict and falling apart. Which made it the perfect location to anchor down a new restaurant led by two young men with big dreams.
Balestreri and Bert Cutino were in their late 20s when 50 years ago, they decided to open the Sardine Factory restaurant at 701 Wave Street in Monterey, in what was considered "the wrong side of the tracks," according to Balestreri.
"We went to everybody to ask to help us out," Balestreri recalls. "But the banks looked at these two young kids and looked at Cannery Row and said, 'They must be nuts.'"
Balestreri's dentist had faith in the young dreamers and loaned the two enough to open the restaurant, and "Boom! It hit," Balestreri says. "It was the place to discover. We broke every rule at that time…Cannery Row was starting to jump. It wasn't homogenized like the rest of the towns, which kind of had a Hansel and Gretel look. This was kind of an evolution of history
with all the cultures. It's a microcosm of what America is all about…There were five flags over Monterey…everybody came here for a new way of life, and for some reason Cannery Row blended them all together in harmony…Each generation left a certain charm to the area."
Steinbeck's famous book and characters, many of whom were based on real life people, like legendary marine biologist Edward "Doc" Ricketts, helped add mystique to the gentrifying region, and in 1958, Ocean View Avenue was renamed Cannery Row.
"It became a literary destination besides an economic destination from the sardines," Balestreri says. "Suddenly these people who went to Carmel loved to tiptoe in and visit. It was kind of a little adventure…"
Soon the main partners, Ted J. Balestreri, Bert P. Cutino, Harry Davidian and George Zarounian, started buying up properties; today Cannery Row Company owns approximately 88 percent of the area.
"In the early to mid-'70s, [real estate developer] Ben Swig, Chief Justice Earl Warren, and former California Governor Pat Brown, among others, owned Cannery Row and at that time they wanted to get rid of it," Balestreri says. "The Coastal Commission was being formed and things were getting tougher and tougher to develop. I went up to see Swig who owned huge hotels in San Francisco. The first building I negotiated with Swig is where now the Whaling Station is…he waited for me to write the check, and then I said, 'Mr. Swig, I don't know if you'd carry the paper?'" Balestreri laughs. "Here I am taking up all his time and I ask him to carry the paper! But I think he loved the idea of taking a little kid under his arm…"
More acquisitions throughout Monterey County followed, including restaurants and properties in Carmel, but the rough area of Cannery Row still presented problems.
In 1969, vandals tried to set the Sardine Factory on fire and destroy the property, but Balestreri and Cutino were determined to come back bigger and better. And they did. With hard work and commitment, The Sardine Factory reopened and enjoyed enormous success.
"We built the Monterey Plaza, which became one of the most successful hotels in the Central Coast of California," Balestreri says. "Restaurants started booming down here. The Fish Hopper and Bubba Gump's are among the highest grossing restaurants in the area. Cannery Row became a destination in itself."
Today a bronze sculpture by Carmel artist Steven Whyte in Steinbeck Plaza honors John Steinbeck, Ed Ricketts, Balestreri, Cutino, their business partners Zarounian and Davidian, Chinese fishermen and madam Flora Woods, who provides some local color, according to Balestreri. "Woods was a kind woman and loved in many ways," he laughs.
Balestreri is 78, and while happily working, says his two sons Teddy and Vince will carry on the direction of the company into the future. There are plans, long in development, to bring a luxury 225-room hotel to the American Tin Cannery property, which Balestreri says will be a huge economic driver for the town of Pacific Grove.
"Cannery Row will keep evolving," Balestreri says. "It has a personality on every block, every street, and every building. You don't get bored…"