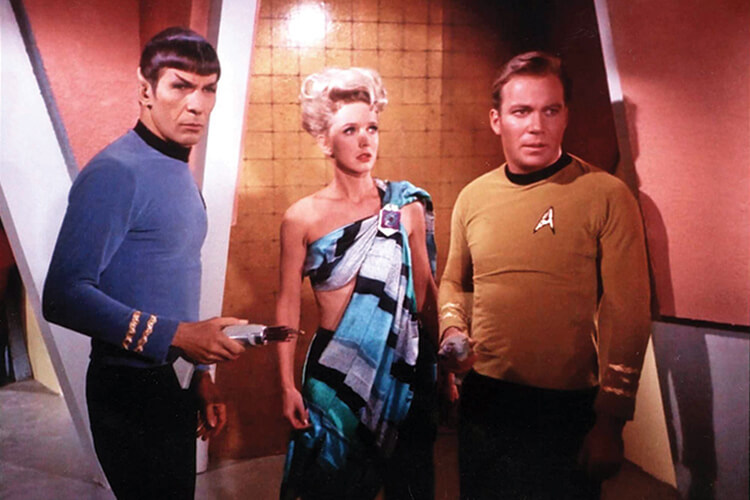 If you should chance to meet Barbara Babcock on the streets of Carmel, chances are good that you would be struck with a strong sense of déjà vu, a surety that you had met this woman before, that her face is familiar. And you'd be correct: you most likely have seen her in one of the hundreds of roles she's played on television and in motion pictures. Babcock debuted on the small screen in 1963 as Dwyane Hickman's girlfriend in The Many Loves of Dobie Gillis and she took her final bow on television in 2004 on CBS' Judging Amy. In the interim, the actress, described by People Magazine as possessing a "willowy, light-as-air loveliness," worked on dozens of the most popular television shows of the medium's history including: Mission Impossible, four episodes of the original Star Trek, Hogan's Heroes,Mannix, The Streets of San Francisco, Golden Girls, Taxi, Frazier, Dr. Quinn, Medicine Woman (for which she was nominated for a Primetime Emmy Award for Best Supporting Actress), half a dozen episodes of Murder, She Wrote and the project she considers her most professionally fulfilling, Hill Street Blues (for which she took home the Emmy for Outstanding Lead Actress). Of course, the movies came calling as well, offering roles in such films as fellow-Carmelite Clint Eastwood's Space Cowboys, in which she played the part of his character's wife.
Though by necessity she spent most of her working years in Los Angeles, Babcock has deep roots in Carmel.
"My mother, Jadwiga Noskow-iak, was born in Chile, came to the U.S. at the age of nine, and at seventeen, already a classically trained singer, took a summer course at the Golden Bough Theater and stayed on after the course ended," she says. "After a rehearsal at midnight, she could walk home alone along the beach and not worry about a thing. No one locked their doors. She loved it here."
The young actress landed the lead in Romeo and Juliet at the Forest Theater. "My father had just graduated from West Point and was studying Chinese at the Defense Language Institute in Monterey," Babcock says. "He had a friend who did the theater's lighting, so he got to watch the show from the lighting booth. His friend said, 'since you're seeing the show for free, you might as well help. See that woman in white? Just follow her with the spotlight.' At the end of the show, my father turned to his friend and said, 'that's the woman I'm going to marry.'" Soon after, Jadwiga Noskowiak became Mrs. Conrad Stanton Babcock, Jr.
The young Army officer was empathetic with his bride's desire to be an actor, but at that time, it wasn't possible—or practical—to be a military wife and to perform onstage. Their daughter Barbara was born in Fort Riley, Kansas. "Then, the Army in all its wisdom sent my father to school to learn Chinese," Babcock says with a laugh, "and then posted him to Japan. I spoke Japanese before I spoke English." Her father also competed in dressage and steeplechase in the 1936 Olympic Games in Berlin, Germany.
Mother and daughter returned to Carmel just before Pearl Harbor. Her father was interned by the Japanese for nine months and was released in a prisoner exchange with Japanese diplomats in Washington, DC.
"Not many people know Carmel the way I did. This was a very different place then," Babcock recalls. "It was working stores. Grocery, drug, hardware. The people that owned those businesses lived here. They didn't have to drive all the way from Salinas to work here as they do now. Back in the beginning you could rent a lot for just $1.00 a year and you could build anything you wanted because there weren't any codes." Noting that Carmel was originally an artists' colony that attracted a pioneering breed, "When you have those kinds of adventurous people living in a community it colors the atmosphere," she muses. "It was very exhilarating to live here then."
But Babcock had even more exciting things in mind for her life. "Originally, I wanted to be an explorer, to travel to Africa, South America and discover places that had never been walked on by humans before," she says. "But I realize there was no way to make a living at that. I was also interested in working with animals—wild animals, not domestic." Later in life, she fulfilled both those early desires, venturing to South Africa, Kenya and Peru many times on scientific expeditions. In fact, she was on one of those adventures in Africa, tracking a group of 50 elephants that had been relocated to a more fertile environment, when she got word about the Emmy nomination for her work on Dr. Quinn, Medicine Woman. "I went back to LA for the ceremony," she says. "But I secretly hoped I wouldn't win. I had just spent a month with some of the most extraordinary animals on the planet. I thought, 'I'm not going to be able to deal with this extreme of walking up on the stage and making a speech when just a few days earlier I was communicating with elephants in a completely different way.'" She didn't win, but, "I was very grateful for that." That kind of perspective and humility are rare in her profession.
"All my life I've been interested in many different things," Babcock says. "When I was struggling at my profession, many of my colleagues were so frustrated at not working. They were eating themselves up by waiting for the next job. I thought the only way to deal with that is to fill my time with something else that interests me." She turned to another interest: writing. "I've written poetry, novels and screenplays," she reveals, "but they're all still in the closet."
Babcock's parents had settled in Carmel after her father's retirement from the military. Following her mother's passing in 2002, the actress came back to refurbish the family home with the intent of putting it on the market, but by the time it was finished, "I decided to move into it." That was in 2004, and except for periods of time in Ireland, Carmel has been her primary residence ever since. "I wanted to leave Los Angeles during the 46 years I spent there," she says. "At that time, it was necessary as an actor to be either in New York or LA. I kept thinking of leaving but didn't want to give up the business yet."
Around this time, she injured her arm while acting in The Glass Menagerie in Ireland. It healed, but she was left with a twitch in her finger. Further investigation led to a diagnosis of Parkinson's Disease. "That was a big jolt, obviously," she recounts. Optimistic and positive to her core, Babcock tells the story of the moment her doctor relayed the news: "And as I was reacting, I thought 'I want to remember this emotion, so I can use it in a role.' This is what actors do. So, following the script in my head, I asked the doctor, 'How long do I have?'…the cliché of all clichés. His answer was, 'eight to ten years.' That was 14 years ago."
In the short space allotted for this story, we've only scratched the surface of this fascinating, multitalented and gracious woman. Barbara Babcock is a true Carmel treasure, one with a long and colorful history here, part of the warp and weave of what makes this such a unique and wonderful place.