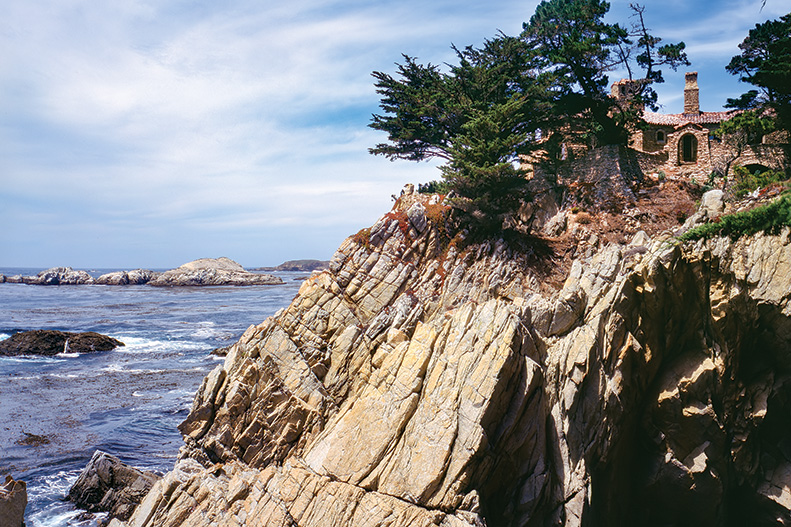 Actor Brad Pitt is no stranger to the allure of Carmel. In the past decades, he's been a frequent visitor to Carmel-by-the-Sea and has attended local events, including rare auto shows during Monterey's Classic Car Week. Pitt has long professed his passion for architecture and is a fan of the Arts and Crafts style of design. Over the years, he has collected an impressive portfolio of special homes around the world. Pitt recently paid a record-breaking $40 million for an off-the-market property in Carmel Highlands called "Seaward."
In 1918, Kansas City businessman D.L. James commissioned famed architect Charles Sumner Greene to design a granite house on his land in the Carmel Highlands, high on a rocky outcropping above the Pacific. The design of the home was based on the ruins of Tintagel Castle in Cornwall, England. Greene—together with his brother Henry Mather Greene and their Pasadena architecture firm, Greene and Greene—was a towering figure in the American Arts and Crafts movement. The pair are known for developing their large and stately "Ultimate Bungalows," which they designed and built mainly in Pasadena. Greene moved his family north to live in the artist colony of Carmel in 1916 and took on the commission of The D.L. James House two years later. Quarried from local stone, the project took approximately five years to complete.
Like Tintagel Castle, the structure of the home grows organically out of the rock and lies on the precipice of a sheer cliff. The exterior is built completely of stone, with grand arched windows and a red Mediterranean-style tile roof. The interiors, while stately and voluminous, also offer quiet, intimate spaces, some with whimsical carvings of maritime motifs integrated into the stonework. Nearly every window in the house offers incredible views of the coastline and ever-changing sea and, to the north, unobstructed views of majestic Point Lobos.
The property encompasses 2.51 acres of rugged land with multiple structures. The 3,793 square foot main residence has three bedrooms and four bathrooms. A caretaker's cottage was built in 1940 and features one bedroom and one bathroom.
During a press event for his movie "Bullet Train" in August, Pitt told "Extra TV" that he purchased Seaward after many years of staying on site.
"[Carmel] is a place that I've been in love with since the '90s," Pitt said. "There was a lovely owner who was really kind and let me stay [in Seaward] over the years. The opportunity came up [to purchase it], so I couldn't pass it up. It's in my heart, that place."
Coincidentally, D.L. James, the home's original owner, was quite closely related to the outlaw Jesse James (his first cousin, once removed), the character Pitt played in the 2007 Western "The Assassination of Jesse James by the Coward Robert Ford."
In addition to his highly profitable business ventures, D.L. James was a passionate amateur playwright and thespian and, during his time in Carmel, appeared in early Forest Theater productions. After he and his wife died, Seaward went to their son Daniel James. Daniel was an award-winning author, who wrote both plays and novels. He made Seaward his permanent home in the early 1960s and lived there until his death in 1988.
D.L. James knew Charlie Chaplin and, at Seaward, son Daniel had a fortuitous meeting with Chaplin that led to him serving as assistant director on the 1940 film "The Great Dictator." During the same era, Daniel and his wife were also friendly with John Steinbeck.
The property has some notable neighbors as well, it's just a stone's throw from the house made famous in the film "Basic Instinct" and seen again in the HBO series "Big Little Lies," as well as the house inhabited by Clint Eastwood's character Dave Garver in his 1971 directorial debut film, "Play Misty for Me." The late Betty White's Highlands home is nearby as well.
In the late '90s, the house was purchased by Joe Ritchie, a financier from Chicago, who introduced Pitt to the property, welcoming him as a guest. Ritchie died earlier this year.
Shelly Mitchell Lynch is a fourth-generation real estate broker in Carmel with Carmel Realty Company and an expert in the luxury real estate market, recognized by The Wall Street Journal as one of the top 100 agents in the U.S. She has a special focus on coastal luxury properties and has sold over a dozen iconic homes in the Carmel Highlands and Big Sur area.
"Carmel and the Monterey Peninsula are truly some of the most beautiful places in the world with a near perfect year-round climate," Lynch says. "This area has long been sought after due to the lifestyle available to those living here. From the rocky cliffs of the coastline, to the pristine and dog-friendly white sand beaches of Carmel, to the lush verdant golf courses of Pebble Beach, there is something for everyone."
Lynch points to activities like wine tasting, perusing art galleries, attending car shows, visiting the Laguna Seca racetrack, dining at award-winning restaurants, shopping and surfing as being a draw to the local area.
"All of these amenities combined with the small-town charm, security and absence of big-town problems, has made the demand for homes on the peninsula multiply in recent years," she says. "Across the Monterey Peninsula, there were 11 homes that sold over $20M since April of 2020. Demand on the luxury end of the market remains very strong."
Location and views are generally very important criteria for luxury home buyers, whether the property is situated ocean front or with ocean views, or golf front and with golf views, or with sunny valley and vineyard views.
"Privacy is often very important for our luxury home buyers, as is architectural design, quality of finishes and access to amenities," Lynch says. "Modern design is in increasingly high demand, and homes close to town, beach, clubs and resorts are very desirable."
Lynch shares that Pitt's recent Carmel Highlands purchase is an architecturally stunning home set in a magical natural setting. "It is great to have the home owned by someone who appreciates the architecture and will no doubt work hard to preserve it for generations to come," she says.
She explains that the Monterey Peninsula features different "micro markets" with personalities and qualities of their own and each market attracts different types of clients and buyers.
"The Carmel Highlands area is known for its natural stunning beauty," she says. "It is a little more raw and private, and feels a bit more remote. This is ideal for folks who value privacy. At the same time, the Highlands are literally closer to Carmel than parts of Pebble Beach. It's just 10-15 minutes away from downtown Carmel and you often get a little more view and space for the money. Architecturally, the houses and properties can be very interesting."
Pitt seems to be on trend with his Carmel Highlands purchase: in the last 24 months, home sales in the Carmel Highlands, Big Sur and South Coast areas have more than doubled in volume. That increase in the number of transactions and in total sales volume also holds true for the Carmel and Pebble Beach areas.
"For a number of reasons right now, investing in a generational home is very attractive to the affluent," Lynch shares. "Buyers are most importantly interested in spending time in this idyllic community. At the same time, the financial investment is compelling today because of the volatility of the stock market. Many of our buyers are putting money into real estate so that they have diversification from the stock market and in the end, have a physical asset they can pass on to future generations."