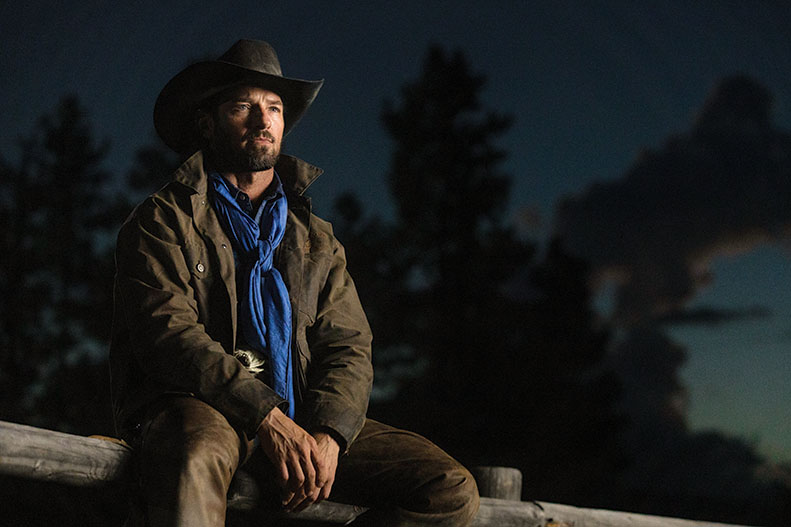 In the fall of 2022, more than 12 million viewers watched the season five premiere of creator Taylor Sheridan's television series "Yellowstone," breaking records for ratings shortly before lead actor Kevin Costner won Best Television Actor—Drama Series at the 2023 Golden Globe Awards for his portrayal of Yellowstone Ranch owner John Dutton. According to a University of Montana study, the Paramount Network show's popularity is responsible for drawing approximately 2.1 million visitors and $730 million in spending to Montana in 2021.
An intoxicating and sometimes shocking blend of familial, political, environmental, conservational and tribal issues is anchored around the fictional Dutton family, who has been ranching for generations. The real-life mystique and wildness of Montana and the trials of ranching life have resonated with viewers in an unprecedented manner.
The actors and characters have become so well known that memes, fan pages and even Halloween costumes abound, but on a clear January day, actor Ian Bohen, who plays ranch hand and Montana Livestock Agent Ryan on "Yellowstone," is just another guy waiting for a cup of tea in a Monterey, California, coffee shop.
No one looks up from the other tables when the barista calls out, "Ian! Your tea!" and he responds with a thank you and walks up to get his order.
Bohen was raised in the Carmel, Pebble Beach and Monterey areas until he was a preteen, when he moved near Hollywood and started landing parts in film and television, including playing the younger version of Kevin Costner in "Wyatt Earp." Other roles include the character Peter Hale on MTV's "Teen Wolf," parts on "Superman & Lois," "Chicago P.D.," "Mad Men," "Prison Break," "CSI: Miami," and several other Taylor Sheridan roles prior to being cast as Ryan.
Q: How did you get into acting?
A: I was 13 and had moved with my mom about 40 minutes east of Hollywood, to a town called Diamond Bar…One day we heard a radio commercial, and they said, "Do you like TV, movies and commercials, and do you want to be in them?"
…I said, "Mom, can we do that?"…And it was kind of a scam, it was a directory where you paid an exorbitant amount of money to have your pictures taken…but I got a call from an agency…They sent me on auditions…That was 33 years ago, and I just haven't quit yet…My first job was one line on a sitcom about a family called "The Torklesons."…I was just enamored with the process…
Q: Where do you live when filming "Yellowstone?"
A: I'm in Western Montana in the Bitterroot Valley south of Missoula, in a little town called Hamilton…My uncle and aunt live in Bozeman, Montana. I spent Christmas with them…My uncle and I went into the woods and cut down a Christmas tree and then we put it in the backyard with lights on it by the firepit…We do ice climbing, cross country skiing and skin up and ski down (hiking up a mountain on skis with grips on them and then skiing downhill). My uncle does that all day and I'm like, "Dude, time out. Let's go have a beer."
I spend six to eight months a year [in Montana], I spend two months [in California] and I spend one to two months in Europe…I'm very lucky. It only took 30 years to sort that out.
Q: What do you love most about the Monterey Peninsula?
A: Carmel is my home. My earliest memories [include] going to Carmel Beach and having bonfires…I learned to drive here, had my first girlfriend here. Golf is a big deal for me and on the peninsula it's not just a sport, it's a culture. I golf with my dad [former head golf pro at Pebble Beach] three times a week. The restaurants are great…I love the ocean and scuba diving out in the kelp forest…there's hardly a more beautiful place in the world…There's a magic to it…I don't take it for granted…I would very much like to retire on the peninsula.
Q: "Yellowstone" has such a huge enthusiasm around it. What is the appeal?
A: The show is for the ranchers, farmers and the cowboys. We always say, "It's not about them, it's for them."…Taylor [Sheridan] is so good, because…he knows their struggles. What is so great about the culture of the American West is there are such traditional values that they appeal to everyone…and he tells the story so authentically that people fall in love with it…It's a show about family dynamics, power struggles and what you are willing to sacrifice for your way of life. And everybody knows that stuff. And it's got some really bad-ass people. The performers are out of this world.
Q: How have you felt your character evolve?
A: We have such a large bunkhouse and so many people, that for the first few seasons I didn't get to evolve or have deep relationships or a love interest…but you find ways to demonstrate who the character is nonverbally…this season I'm fortunate enough to have a girlfriend and you get to see different layers…I'm thrilled and I want to see how that goes, because Lainey Wilson [who plays Abby] is the most lovely human being in the world; I just absolutely adore her, and also I want Ryan to evolve even further because it's more fun to play…
Q: You have had to do some gruesome tasks and serious things as Ryan.
A: Yeah, on this show we've done some bad things. I was thinking about my body count…I'm up there in the top five of killers on the show.
Q: How do you think the show manages to make all the violence palatable? How do you forgive the characters for their actions?
A: They have to be sympathetic in a way so that the audience forgives them. This is something I know a lot about from being on the show "Teen Wolf" for six years. My character was responsible for the deaths of hundreds of people…but he could always tell you why he had to do what he did…Not to condone violence, but Taylor writes it in such a way that people get it.
If you steal horses or take someone's land or you hurt their family, there are no rules…we are always right on the edge, then we bring it back.
Q: There are some very difficult decisions that the Duttons make to preserve their way of life. What is it like for actual ranchers?
A: It's becoming harder and harder for them to survive. They are being forced out for large-scale industrialized farming…These poor people are getting phased out. And that's what the show's about. How is it going to end? Are the Duttons going to keep the ranch? I don't know…These are the things Taylor thinks about…and he highlights those themes in the most interesting way….
Q: The show also does a very compelling job of showing Native American struggles and raises the issue of who really owns the land.
A: It's ironic, right? All these rich white families say, "This is our land," and the first people look over and say, "Oh really? How'd you get it?" That subject is never going away…Taylor respects the people and their culture. He grew up with them and he's been to countless ceremonies since he was in his teens…
Q: Each episode is so densely packed with issues, and at the same time is so entertaining. What's been enjoyable for you to do on the show?
A: The horsemanship alone and the roping and the riding is so much fun. I started roping when I was 20; I'm by no means good at it…but I have the best teachers…Next summer, I'm going to try to win a belt buckle at a rodeo…It's a dream come true. I've wanted to be a cowboy since I was five. I used to pretend I was riding a horse in the garage on milk crates and wearing a hat. It's funny how the world works. For a while, I thought I wanted to be a professional golfer. Now I just go out and have fun golfing and try not to get mad.
Q: What does the rest of the year look like for you?
A: We are on break right now. We think we will go back in March and do another eight episodes for the end of season five. And, your guess is as good as mine, then season six and hopefully seven…If Taylor says, "Hey I want you to do this," you don't even ask questions. You say, "Let me pack my stuff, where am I going?" He's terrific.