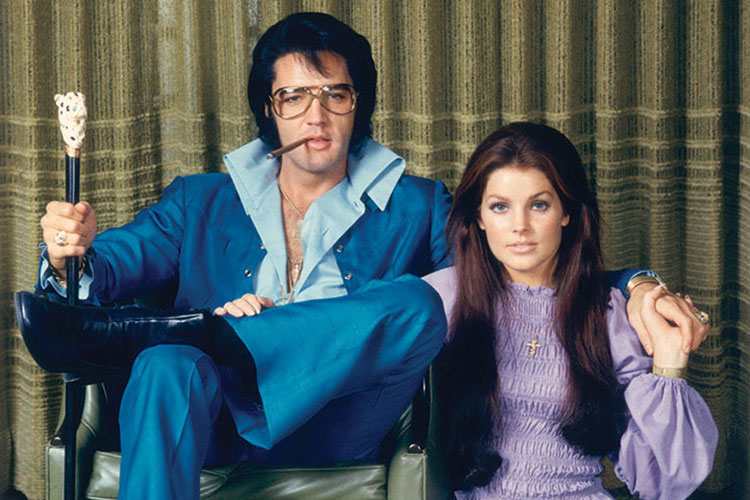 Priscilla Presley sits quietly for a moment before answering a question about her memories of when she and Elvis Presley visited Monterey in December 1967. They had traveled from Los Angeles to visit her parents, Ann and the late Colonel Paul Beaulieu, who were living in Fort Ord.
Laughing softly, her eyes sparkle. Presley's eyes will telegraph many things over the next few hours as she talks about her life with and without The King of Rock and Roll. Relaxing on a large leather sofa surrounded by plush velvet pillows in her Beverly Hills mansion, her delicate frame seems almost lost amid its stone walls and cavernous ceilings. However, it soon becomes evident that her spirit is bigger than these surroundings, and this palatial home has become her protective sanctuary from the outside world.
She begins, "Elvis had finished production on the movie, 'Speedway' the summer before with his friend and co-star Nancy Sinatra. Also, Nancy had just taped a television special that was going to air the night we arrived in Monterey. My parents had a black-and-white television set and Elvis wanted to see the special in color, so he ordered a television to be delivered to my parent's house in time for our visit. When we arrived, my father was out in front of the house shouting at someone that he did not order a television set and they needed to take it away.
"It was already at the door and the men were trying to bring it in. Elvis and I got there in the middle of all the craziness and Elvis explained to my dad that it was ok, he was the one that had ordered it—and it was paid for—because it was also quite expensive. Elvis got him calmed down and that night we all sat around the television together and had a good laugh over what had happened earlier while we watched the show with Elvis."
Presley continues, "Another memory of that trip was going to George Stoll's mansion (The Crocker Mansion, known then as the "Castle") in Pebble Beach. Elvis had a standing invitation to visit George and his wife Dallas because George was the musical director at MGM Studios in Hollywood. He had scored Elvis's movies, "Viva Las Vegas," and "Spin Out," and through these movies they had become instant friends.
"George had quite an impressive bourbon collection and he wanted Elvis to try some of them. Elvis was never a big drinker, but he had a few with George as they talked about the movie business. While they were doing that, George's wife, Dallas, took me around the Castle and showed me some of her jewelry collection. I remember one piece, a 32-carat canary-yellow diamond ring, that had once been the engagement ring given by Prince Aly Kahn to Rita Hayworth.
"When the men finished their bourbon, George invited us to go to the basement with him to see his stretching machine that was rumored to have belonged to Howard Hughes. You see, George was very short and he told us before going out for a special occasion he would go on this machine for 15 minutes to stretch his body to lengthen it. Because we were all going out to the Lodge at Pebble Beach to Club XIX that night for dinner, George wanted to get on this contraption. Well, Elvis thought the whole thing was amusing. After seeing this, Elvis was laughing, saying George stretched himself out, but with every drink George took afterwards, Elvis swore he was shrinking back to his normal size!
"We left the Stolls' and went to dinner, but while waiting for a table we were relaxing on one of the sofas outside the dining room and we both fell asleep. Elvis was tired from the bourbon and I wasn't drinking but I was tired too. I was seven months pregnant with Lisa [Marie] at the time. The management told us to leave. Yes, we got kicked out of Pebble Beach!" she says laughing. "But they were right. Elvis understood their point and he didn't make a big deal out of it. We had a good laugh about it the next day."
Asked about her life after Elvis's death, she says, "We had divorced a few years before but we had remained close for the rest of his life. I wanted to protect the memories I had and I didn't want to share a whole lot with the world so I drew back and became more closed off. Years later, I began to see that more and more books were coming out about Elvis, and I kept away from them. One day, I began to go through some of them, many of which were written by people who never knew him or us. There were fallacies, lies, and misconceptions and I wanted to set the record straight. Writing my own book was as far from anything I ever thought I could or would do. But I had to find the courage to write it."
And write the book she did. She set the record straight with "Elvis and Me," published in 1985. It became an instant New York Times bestseller.
"I have come to the point in my life where I no longer hesitate to go forward with something that is facing me which I might be fearful of or something that challenges me," Presley says. "For instance, when I was asked to do live theater in London a couple of years ago, my initial reaction was, 'I could not possibly do live theater,' but then that little voice inside of me said, 'Will you regret not taking this opportunity to grow at something?' and I decided to go for it."
Presley starred in "Pantomime" playing the Wicked Queen in Snow White and the Seven Dwarfs to sold out shows in London and throughout the U.K.
"It turned out that I loved doing live theater," she says." "And 'Pantomime' is so much fun because the audience almost becomes a part of the show. They cheer and boo depending on what is going on, but it is all in good fun. In fact, when they boo it means you're doing a great job!" She adds, "And sometimes, being in the moment, I improvised."
She gives an example of an improvisation as her eyes become menacing and she disappears into character for a few seconds, uttering the lines that order the young princess to leave her presence.
Then, she relates that the audience booed her for banishing the princess. Presley pauses for a moment and says, "At that point I looked directly at the audience" and again she effortlessly slips into character with eyes flashing, and says, "You don't know her like I do." This was an unscripted moment that brought the house down, and illustrated what a naturally talented actor Presley is.
Her broad acting range was evident when she did a dramatic turn playing Bobby Ewing's first true love, Jenna Wade, for five years on the mega-hit television show "Dallas." She turned the tables after that and showed audiences what a natural comedic actress she is in the popular "Naked Gun" movie franchise.
Presley's eyes soften as she says, "Elvis taught me a lot, and in a way, he still is. He said, 'Every audience is different and if you think they will be the same every time you are fooling yourself.'" She adds, "Unfortunately, Elvis was not able to fulfill the dream he had of going to Europe, South America, etc., because of his varied commitments, but I realized I could take him places where he never performed."
To fulfill the mission of bringing him to his fans once more, Presley began by hosting shows with the London Philharmonic Orchestra
in 2013, which featured music inspired by his albums, "If I Can Dream"
and "The Wonder of You." These were lavish productions with jumbotrons, where his fans could see footage of Elvis performing in sync with the orchestra.
Arenas sold out in the U.K. and major cities in Australia, Europe, Eastern Europe and South America. Presley sums it up saying, "Elvis was selling out arenas 40 years after his death. What other entertainer has ever done that?"
Now, audiences are being treated to a rare opportunity to enter their world with the program, "Elvis and Me: An Evening with Priscilla Presley" with treasured photographs and home movies of their life together, and a Q&A session at the end of the show. After playing in several cities, Presley is now preparing to appear at Carmel's Sunset Center on January 10.
"Going before a live audience, I do get a little nervous," she explains, "but that's normal, and I remember Elvis saying he would get nervous as well, just like all entertainers. During the Q&A, I answer questions about things like what it was like when we first met, the life we shared, the divorce, etc."
Presley's eyes grow wide and then she says, "I even answer the sometimes difficult questions." She continues, "Elvis was a very private person but his light was so big and because of that he changed the culture of music. But the door was left wide open for people to criticize him and come up with their own theories, perceptions and opinions. He was the real deal and I owe it to him to be honest with his fans."
"Elvis and Me: An Evening with Priscilla Presley," takes place on January 10 at 8pm at the Sunset Center, San Carlos St. at 9th in Carmel. For more information, call 831/620-2048 or go to sunsetcenter.org.